My trip to GNU 40 in Switzerland
Last week I went on a trip to celebrate the 40th anniversary of the GNU project. The event was jampacked with speakers from Nextcloud, the FSFE, GNU Taler, GNU Solidario, many contributors of the GNU project and of course Richard Stallman himself.
© Théo Bondolfi 2023, CC BY-SA 4.0
This blogpost will be about the amazing week that I had in Switzerland and all the great people I've met. You can find more information about the event and videos of all the talks on the GNU 40 website.
Monday
Monday started with me packing my stuff. It turned out that I didn't need a lot of things, just a bag of clean clothes, toothbrush, the necesary chargers and of course my ThinkPad X200. I also made sure to download the maps of Switzerland and Germany for OsmAnd.
In the afternoon I did some maintenance to prepare my trusty steed, the yellow Mazda MX-5 NB, so it can survive the rougly 2000 kilometer journey from the Netherlands to Switzerland.
My biggest hobby is cars, so I have my own workshop so I do all the maintenance on my car myself. I knew before coming here that I had to replace my front brake pads. Especially on the steep mountain roads of Switzerland having good set of brakes is definitely important, so this seemed like the best time to replace them.
After that I went home and ate dinner, grabbed my bags, got back in my car, and started making my way to Switzerland at around 19:00.
I decided to divide my roughly 10 hour drive into two sections so I could sleep inbetween and not lose my sanity. This also means I could drive through Germany in the evening to avoid traffic, but still drive through Switzerland during the day to enjoy the beautiful scenery.
In Frankfurt, around halfway between the Netherlands and Switzerland I booked a cheap hotel room and went to sleep.
Tuesday
I checked out of my hotel, ate breakfast and got in my car to continue my journey. I had never been to Switzerland before so I had no idea what the situation at the border was going to be like. I assumed it would be similar to crossing the border of the UK because Switzerland, just like the UK, is not a member European Union. But when I got there I realized that I had forgotten that Switzerland was actually part of the Schengen zone so it would be a lot easier thankfully.
I arrived at the border checkpoint in Basel all the customs officer did was look at my windscreen if I had bought the mandatory road toll vignette sticker, which I of course did. The officer spotted my sticker and gave me a thumbs up and I continued driving. I did not have to show my passport or answer the usual "business or pleasure" questions, in fact I didn't even have to bring my car to a full stop. Great customs (get it?).
As expected the drive from Basel to Lausanne where I would be staying was very beautiful. The weather was great so I drove all the way there with the convertible top down to enjoy the scenery to the fullest.
During the trip I would be staying in the ecovillage of Grandvaux, graciously provided for free by Theo Bondolfi in exchange for a few hours of my time contributing to a Ynternet Foundation project. I can't talk about the specifics in this blogpost but I decided to join the project so it will probably be featured in my Portfolio in the future.
The ecovillage is built into the mountainside which upon arrival stunned me with an amazing view of Lake Geneva. I really enjoyed this amazing view the entire time I stayed at the ecovillage and I really miss it now that I am back home in my very flat and uninteresting country of the Netherlands.
When I arrived they showed me how the ecovillage works, where my room is and other practical details about my stay. Not even thirty minutes later Theo asked me if I wanted to go swimming. I must agree this was a very sudden thing and I did not count on going swimming at all, but eventually I decided to go with the flow and figured "Why not?".
To go down to the lake we walked through very thight winding paths through the many vineyards in this area while the sun was starting to set. It was a very beautiful walk and immediately made my mind settle into the place I would be staying at for the week to come.
We took a brief swim while the sun was setting and at the beach the first people I encounter is a group of Dutch students. Driving 1000 kilometers away from home and the first people I encounter being from my home country is one of those weird coincidences that makes me question if there's a glitch in the matrix, however we had a nice chat with the Dutch students and me and we went back to the ecovillage.
When we got back the other people staying at the ecovillage for the GNU 40 event had arrived as well. We ate some food, discussed our travel plans for the event tomorrow and went to bed. Tomorrow would be an early day.
Wednesday (GNU 40)
We woke up very early in the morning to arrive at the event on time. The event was in the Volkshaus in Biel which is a 90 minute drive from the ecovillage and the event starts at 9:00. But I still had the time to take a picture of the sunrise. We all travelled together in a van provided by the ecovillage.
There were many talks all day from 9:00 to 20:00. I liked that various different organisations and people showed up at the event, like Nextcloud, the FSFE, Jörg Mäder from the Green Liberal Party of Switzerland and of course many people from the GNU project.
I'm not gonna go into detail about all the different talks but you can see the schedule and links to videos of all the talks on the GNU 40 webpage.
During the event I spent most of my time with a group of friends of mine from the Netherlands, they were staying at a hotel near the event for this trip. During the dinner break we decided to eat at a nearby Izakaya (いざかや). It had great authentic Japanese food and as a surprise to all of us one of the waitresses actually spoke Dutch natively.
I thought the event was overall a great success. Many people from all over the world showed up to attend. I wished the event was longer than a single day, because it was a lot of information to take in. A GNU organized free software weekend sounds amazing and I hope something like that will happen one day.
All the talks were of course related to the free software movement in some way. Some talks were about philosophy, some were about ethics and there were also a lot of demonstrations of projects in currently development. Some of these demos were very broad and understandable while others were very technical.
One of my friends brought their dad with them, he's very interested in the philosophy and ethics, but he's not a software developer so he actually fell asleep during one of the more technical talks. Some talks were clearly only meant for people who work in the field of software development.
A key moment of the event was the unfortunate announcement from Richard Stallman that he is suffering from cancer. Thankfully he said that his prognosis was good and that it is treatable. He will live for many more years, he said. I wish him well.
If there's one thing I would change about the event would be the audio setup. Some speakers unfortunately had some issues with the microphones during their talks. But overall, it very great and interesting day. I feel like I learned a lot of about all of the new things going on in the free software world.
After the event I was asked if I could be the one to drive us back in the van to the ecovillage. I really like the openness and trustfulness of everyone at the ecovillage. Even though I arrived the day before and they barely knew anything about me they trusted me enough that I would handle with their vehicle with care.
Back at the ecovillage we had a great night with all the GNU 40 attendees staying there. It turns out three of us owned the same RYF certified ThinkPad X200. So we had a great moment comparing each other our laptop's setups, mods and repairs.
One of the guys staying at the house was Tibi who runs the Technoethical store from Romania. He sells a lot of RYF certified hardware, including the X200. He was able to share with us a lot of cool and interesting details about how he runs his store and his process of refurbishing these computers. He also took home a laptop of one of the guys at the house to repair in his shop.
Thursday
On Thursday I woke up and we did a little a workshop for the Ynternet project. We also had a great lunch that was prepared by the residents of the ecovillage, it included probably one of the most deliciously baked sweet potato I've ever eaten.
For the rest of the day I had no plans and I was trying to find something fun to do. This changed quickly when Theo had a proposal for me. I could pick up Richard Stallman with his companion and bring them to a castle called Château de Petit-Vivy to eat dinner with a bunch of the other speakers from the event of the day before.
During the ride I conversed with Richard about proprietary javacript, the work I do, the OpenStreetMap project and linguistics. I learned that the word "t" in "castle" is silent because of old spelling based on Latin. I also tried some candy that tasted like pistachios that he got from India.
At the castle I met many of people involved with the GNU project and had a great evening. It was truely a great evening and I'm very grateful to have had the opportunity to get the meet Richard Stallman and many other people from the GNU project personally here.
Friday
On friday I decided I wanted take my car and go for a drive on a real alpine mountain pass. My Mazda MX5 is a perfect car to drive on the tight winding roads and I do not get a lot of opportunity to do something like this being from the small flat country that is the Netherlands.
I asked Theo for nice mountain pass roads nearby and he recommended me to drive through the Col des Mosses. And I must agree that this was an amazing road to drive on. If you try to drive a little spirited on this road you can get the same kind of driving intensity that you get while driving on a closed racetrack like the Nordschliefe, even though this is a public road. I drove through this mountain pass multiple times that day. I had a ton of fun that day as evidenced by the pieces of molten rubber stuck to my tires after the run. I truely recommend going to a place like this if you're a fellow eurobeat connoisseur such as myself.
You can see the exact route I drove that day on OpenStreetMap here.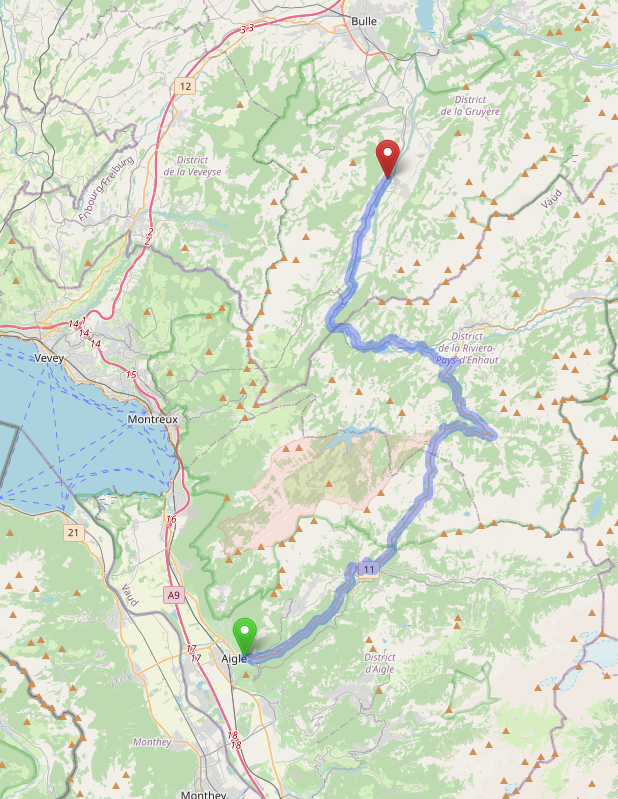 This day I also hung out with Jason Self who came all the way from Seatle to attend GNU 40. I picked up him with my car and we had a nice drive through Switzerland and I showed him around the ecovillage. Jason is the Chief Webmaster of the GNU project website, so we had a lot of interesting things to talk about.
We ate together in a French restaurant in Bulle. Probaly because it is French the restaurant was more fancy than what I would usually go to, but we both had a great meal.
Saturday
Saturday was the day where I unfortunately had to get home. I wasn't going to book a hotel for the way back so I woke up early so I could drive while the sun was still shining. I packed my stuff, said goodbye to the wonderful people at the ecovillage and it was time to go.
The drive back home was rather uneventful and felt very long, it took me about 10 hours in total.
And with that this brings my amazing week in Switzerland to an end. I hope I will get to do something like this again one day. Maybe that will be GNU 50? Or 45?
---